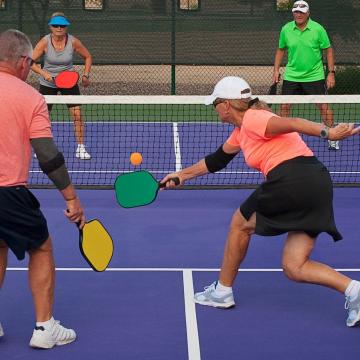 Join in the fun of the fastest growing sport in America! Pickleball is perfect for all ages and all skill levels. It's a great workout while offering a social and competitive environment.
Branch-Based Pickleball Court Time
Several of our YMCA locations offer pickleball court times at their facilities. These court times allow YMCA members to enjoy friendly competition in a more casual atmosphere.
Competitive Pickleball Leagues
Throughout the year, the Y may partner with community organizations to offer competitive adult pickleball leagues.
Locations
Pickeball court times are offered at the following YMCA locations: Clark County, Downtown, Floyd County, Northeast, Oldham County, and Southeast
Schedule
Pickleball court times at select branches are available on a first-come, first-served basis several times weekly in the mornings and afternoons. Please contact the branch for detailed scheduling.
Starting Price
Pickleball court time at YMCA branches is free for YMCA facility members.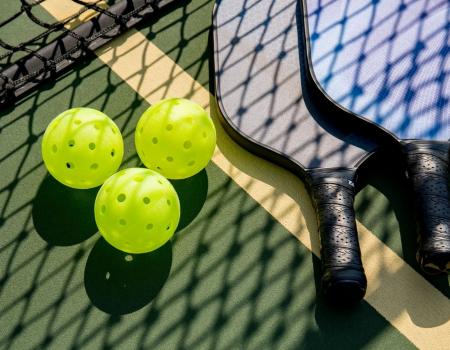 The Y is for everyone. If you're looking for financial help, we offer affordable membership and program rates based on household income. Learn more about our financial assistance program. Please stop by the branch or give us a call to discuss whether you are eligible for assistance.
Throughout the year, the YMCA may partner with other organizations to host pickleball leagues and tournaments. Dates/times, locations, and cost will vary by league.
Use the button below to see what clinics, leagues, and tournaments are currently available for online registration.
If no sessions are available for registration, please contact your branch to see when the next session is scheduled.
Baird Urban Sports Park Pickleball League Schedule
Whatever your goal — weight loss, toning, stress relief, endurance — there is a group fitness class at the YMCA to suit your needs.

Do you like to swim? Do you frequently find yourself swimming laps at the YMCA pool, no matter rain, shine or snow? Are you looking for a new...

Racquetball is a time-tested, tried-and-true sport to sweat it out and find social camaraderie at any age. Whatever your skill level, the YMCA of...